Networks Infrastructure Management
The Nomadix® Networks infrastructure provides flexible management options to accommodate diverse architecture preferences and mandatory requirements from end customers and systems integrators. It can be managed in several ways, including:
Standalone WLAN Access Points (APs)
Virtual WLAN Controllers hosted in the cloud
Physical WLAN Controllers deployed at local sites
LAN Switches
Our platform offers a powerful monitoring module for our complete range of equipment, ensuring flexibility across all models, and unlike some alternative solutions in the market, administrators only need to familiarize themselves with a single software and feature set. Additionally, both our WLAN cloud controllers and WLAN local controllers have a unified user interface and functionalities, minimizing potential confusion while reducing the learning curve for administrators.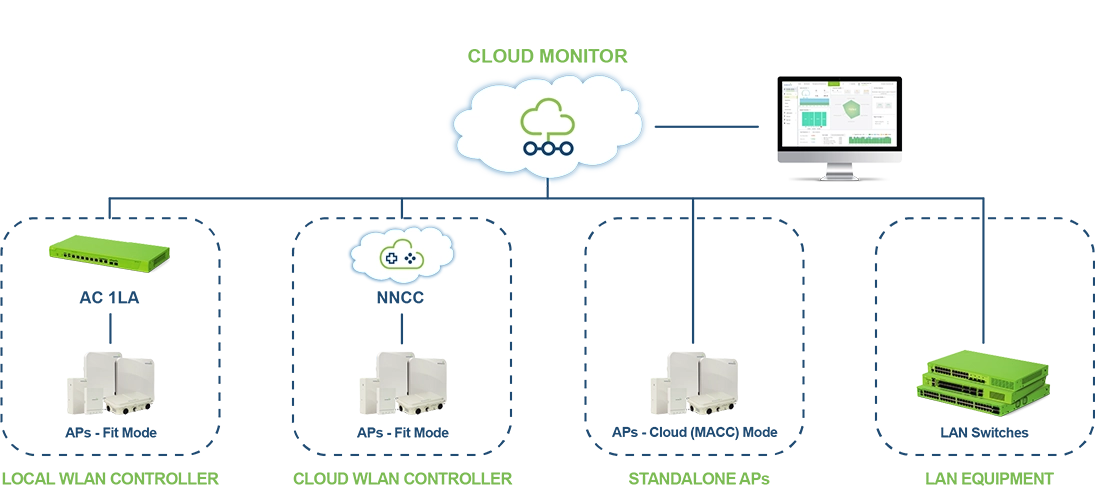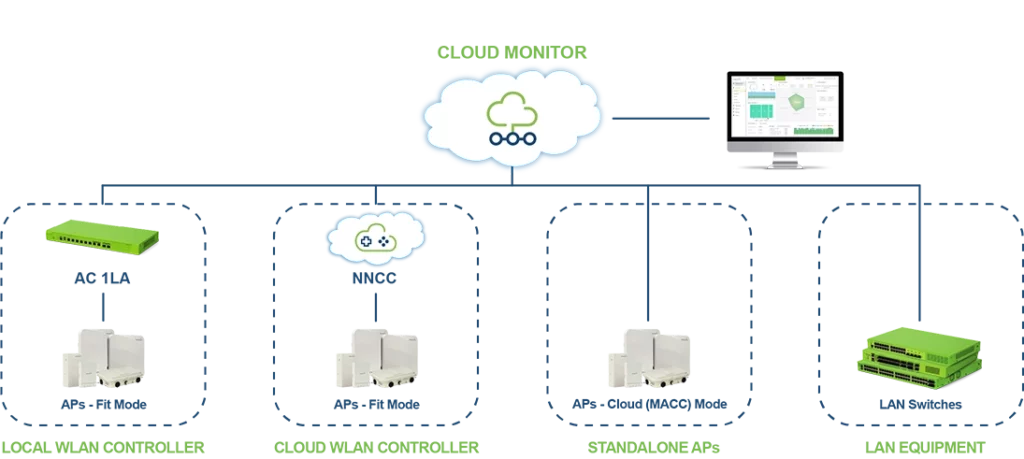 Cloud Monitor
Hosted by Nomadix and accessed through a single sign-on, the web-based interface provides consolidated visibility, management, and monitoring for our entire range of network infrastructure equipment. The interface includes various features such as health status, monitoring, firmware upgrades and management, topology visualization, configuration backup and restore, in-depth analytics, security, alarms and notifications, and much more. This unified interface creates a single pane of glass experience, enabling administrators to efficiently manage and monitor all devices – even when deployed as standalone, such as WLAN access points on smaller sites.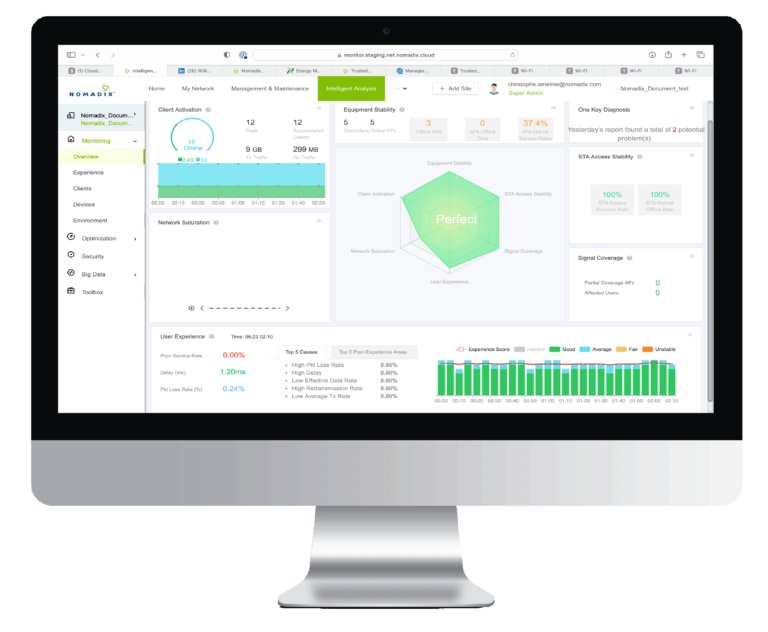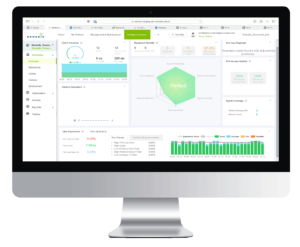 Cloud Controller
The Nomadix Networks Cloud Controller (NNCC) is an enterprise-class, secure, robust, and scalable WLAN management platform capable of handling upwards of 10,000 APs per logical instance, also hosted by Nomadix.
Data exchange can be handled either in a centralized or distributed processing model and the access points can be configured to automatically switch to an intelligent mode in the event of a loss of connectivity with the cloud. For seamless user onboarding and management, integrating the WLAN controller with Nomadix gateways provides a superlative guest internet experience.
Local Controller
The Nomadix WLAN Local Controller (AC 1LA) offers the same extensive features, functionalities, and user interface as its cloud counterpart. The primary difference lies in its maximum capacity compared with the hosted platform: the physical appliance supports up to 224 indoor/outdoor access points or 448 wall plate access points.
For increased capacity, load balancing and high availability, a maximum of 8 units can be combined into a virtual controller, making it ideal for on-site deployments that require scale and performance. And for even more resilience, the access points can also be configured to automatically switch to an intelligent mode in the event of a loss of connectivity with the controller.

Main Specifications:
Physical Interfaces

6 x RJ45 1000BASE-T 1Gbps copper ports

2 x RJ45 1000BASE-T / 1000BASE-X SFP 1Gbps copper / fiber ports (combo)

2 x USB ports (Type A)

1 x console port (RS-232)

AP Management

224 indoor / outdoor APs or 448 wall plate APs per unit
2,048 APs per cluster

Client Management

6,400

WLAN Bandwidth

8 Gbps

Dimensions

19-inch rack format (1U), short depth

440mm x 200mm x 43.6mm

Weight

2Kg

Power

Fixed power supply 100-240V, 50-60Hz

Consumption <40W