Offering Wi-Fi Scalability, Staff Safety and Upgraded Resident Experiences for Multi-Tenant Properties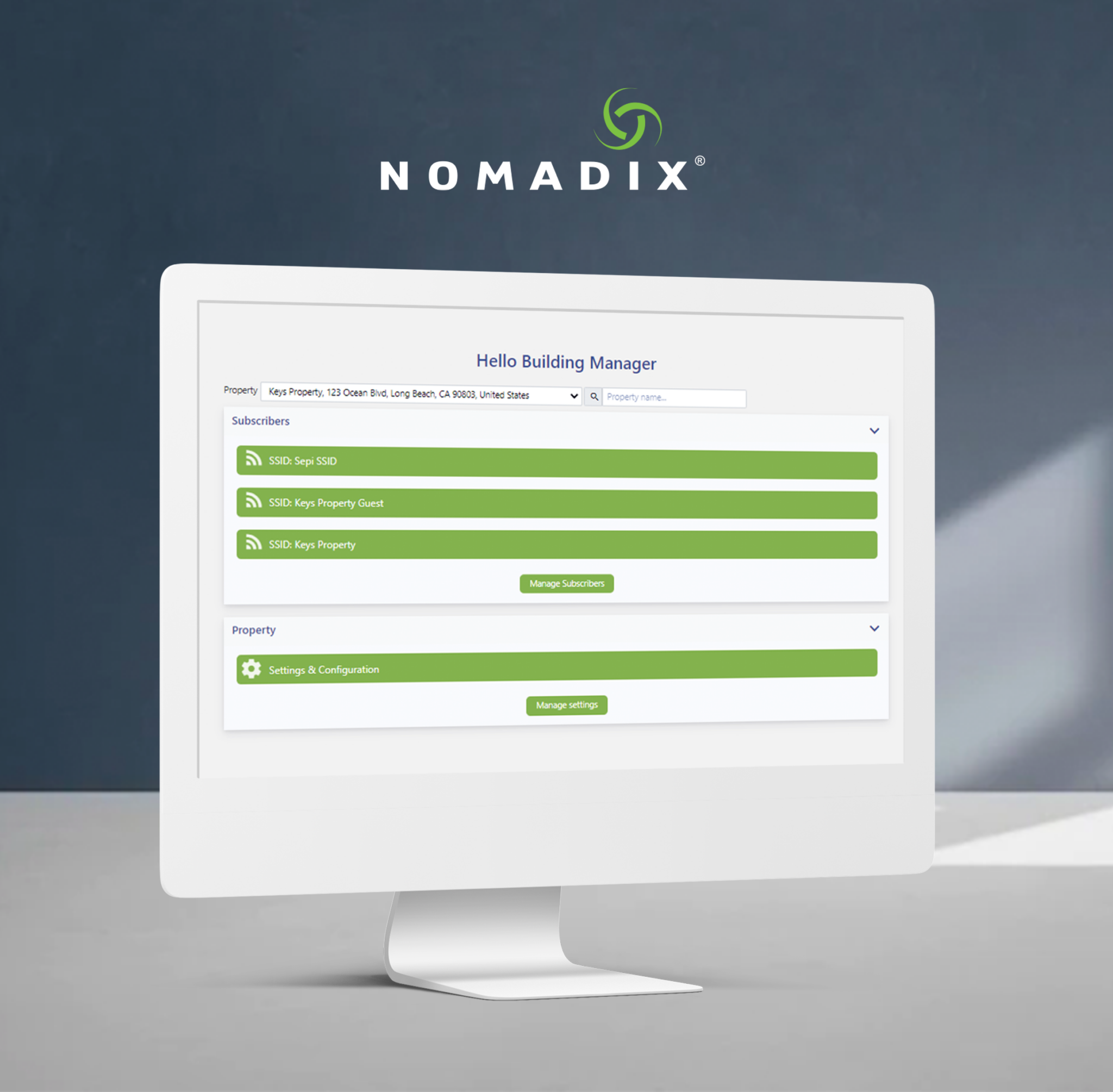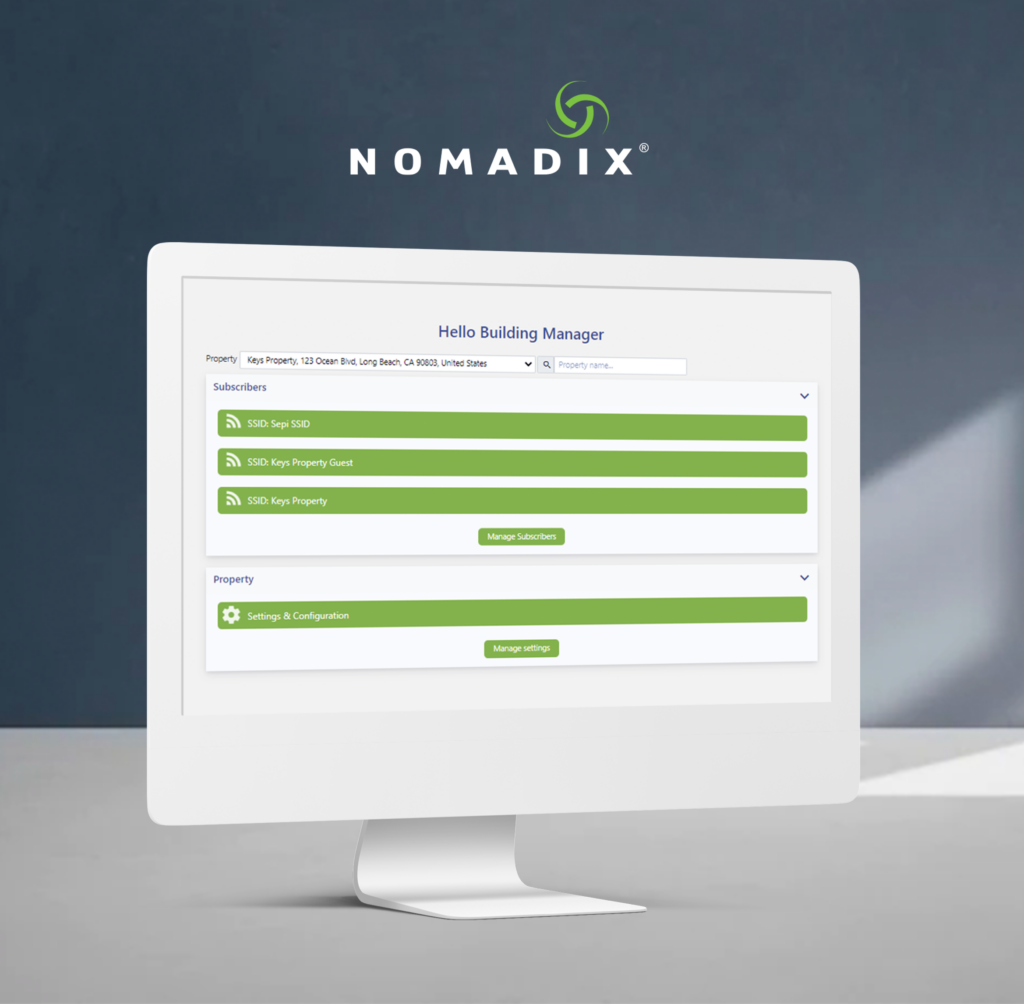 LAS VEGAS – November 1, 2022 — ​​Nomadix® Inc​., a technology leader in hospitality and multi-tenant industries, will showcase its expanded technology solution portfolio at the annual convention of multifamily housing technology and operations professionals, OPTECH 2022 in booth #104. The range includes the latest version of its Multi-Tenant Portal for service provisioning and management, complemented by its internet gateways as well as its new LAN and WLAN infrastructure (with stock readily available) and its Alerts 2-in-1 solution for staff safety and Wi-Fi monitoring. The combination of these high-available and scalable products specifically tailored for multi-tenancy needs allows the delivery of superlative services to large-scale smart apartments.
"According to the 2022 NMHC/Grace Hill Renter Preferences survey, 89% of residents are willing to pay a premium for amenities, including high-speed internet. Nomadix can help deliver secure, reliable and scalable Wi-Fi experiences to residents and visitors, while offering multifamily owners, operators and property managers a simple to use product suite with an unbeatable performance-to-cost ratio," said Mike Womack, Nomadix vice president of partner sales – The Americas. 
The OPTECH showcase includes:
Nomadix® Multi-Tenant Portal: 
An all-in-one white label managed Wi-Fi solution that enables service providers to offer instant and secure connectivity for tenants, staff and visitors. It allows branded, simple and immediate subscriber onboarding/offboarding – for the utmost resident experience. 
Nomadix® Networks: 
A product family including internet gateways, LAN switches, Wi-Fi 6 access points and controllers. Nomadix internet gateways are the preferred solution for many of the top brands and properties around the world, providing resilient, secure and compliant connectivity. Some of the key features for the multi-tenant market include patented bandwidth management, as well as high-availability and load balancing to guarantee an always-on service. The new infrastructure products are designed to deliver energy efficiency, carrier-grade levels of resilience and security.
Nomadix® Alerts:
A wearable 2-in-1 staff safety device that helps safeguard isolated workers from threats and harassment – including fall detection – while providing Wi-Fi analytics as employees roam around the community.
For more information on the Nomadix Multi-Tenant solutions or to book a meeting with the Nomadix team at the OPTECH, visit: https://nomadix.com/optech/.
About Nomadix
With more than 25 years of experience, Nomadix enables over 5 million daily internet connections in over 150 countries. A global reputation for unparalleled reliability and ease of management, its patented gateways are the industry standard in hospitality, used by tens of thousands of properties and supporting millions of rooms worldwide. The company provides hotel and property owners, brands, property management groups and managed service providers (MSPs) with a suite of solutions that will enhance the guest and tenant experience, today and into the future. From in-room entertainment with TV casting, to secure Wi-Fi with an expanded Nomadix Networks portfolio, Multi-Tenant Portal, Nomadix Alerts, Angie in-room voice assistants, to a cloud telephony service – feel at home wherever you go. For more information, visit nomadix.com.
Media Contacts:
Aubrey Coggins
Director of Marketing
Press@Nomadix.com
Barb Worcester
PRpro
barbw@PRPROCONSULTING.COM
440-930-5770