Meet Nomadix at GITEX 2022
Book a meeting with Andrei Motoc, on the SCOPE ME stand, to learn about the full Nomadix portfolio of internet and guest-facing technologies, including the launch of our Nomadix Networks portfolio. Hotels have relied on our patented internet gateways for many years, and our portfolio now includes WLAN access points, controllers and LAN switches. These are available and shipping now.
With more than 25 years of experience, Nomadix enables over 5 million daily internet connections in over 150 countries. Our solutions also include Passpoint, casting, PBX, and Nomadix Alerts, a 2-in-1 panic button and Wi-Fi quality monitoring solutions, plus touchless, voice-activated technology. We also offer managed Wi-Fi solutions for multi-tenant (MTU) properties.
Our Solutions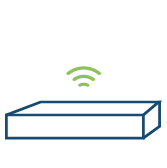 Internet Gateways