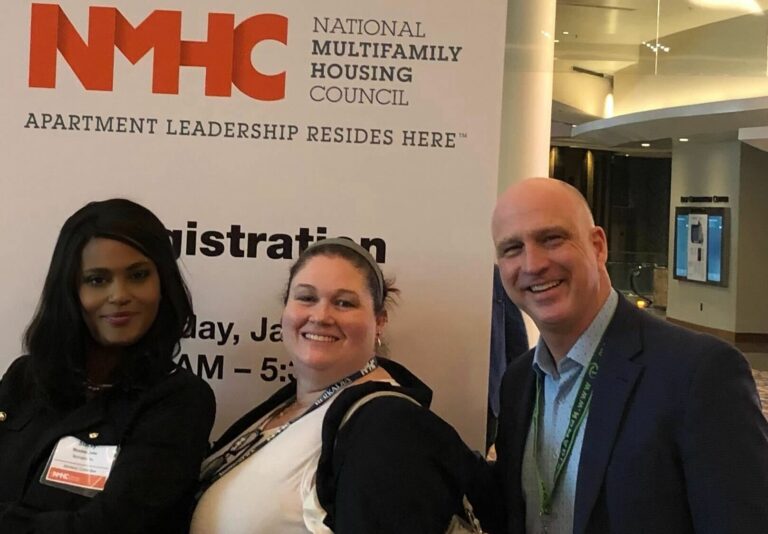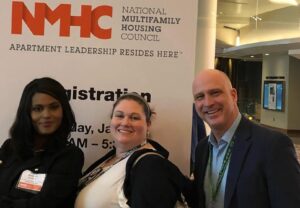 There's no better way to kick off the year (or even my new role at Nomadix) than to attend the Annual Meeting for the National Multifamily Housing Council (NMHC). This key event is a meeting of the minds, focused on pressing trends and advocacy initiatives from all stakeholders across the industry – including property owners, management groups, construction and builders, and even industry suppliers, such as Nomadix.
The event is a great forum for "insight, advocacy and action" with 8,000+ attending members breaking into committees to discuss the critical topics shaping their businesses, investments, and customers – from design & construction to workforce housing to diversity, equity & inclusion. I found the Supplier Partner Alliance Meeting engaging, leaving with a better understanding of the pain points my peers are facing and reinforcing what we're seeing in this market. 
I was also honored to be involved with many key business leaders at the annual Women's event that kicked off the week of sessions. Thought leader and keynote speaker, Marillyn Hewson, inspired those in attendance with insight and guidance on how to best leverage our personal and professional experiences in ways that promotes inclusion and yields success in leadership. 
Lastly, it was an honor to witness the ushering in of the new NMHC president, Sharon Wilson Génot, and the special tribute paid to outgoing president, Doug Bibby. Doug bid his farewell to NMHC members, after more than two decades at the helm, advocating critical issues affecting rental housing and growing NMHC into an organization that today touts membership of over 1,100 firms. Sharon will lead NMHC with the same vigor, passion, and inclusive leadership as her predecessor and will ensure the continued success of NMHC as an impactful change agent within the rental housing industry.
Nomadix has been a member of the NMHC for the past few years. We are grateful for the time everyone took to travel to Las Vegas and for the organizers of the conference. The takeaways from this event were truly impactful. At Nomadix, we bring connected experiences to life, and I look forward to leveraging this strength throughout the year with our partners and other members of NMHC. Please connect with me to discuss how I can help as your property, partner, customers, and residents are shaping their experiences in new ways.
Stacey Rhodes-Butler is Director of Partner Sales – Nomadix Networks. A well-respected, veteran channel sales leader, Stacey has many years of experience in networking and wireless technologies and working closely with the channel ecosystem to bring these solutions to market. She supports existing North American partners and onboards new partners to build cohesive programs with our teams.