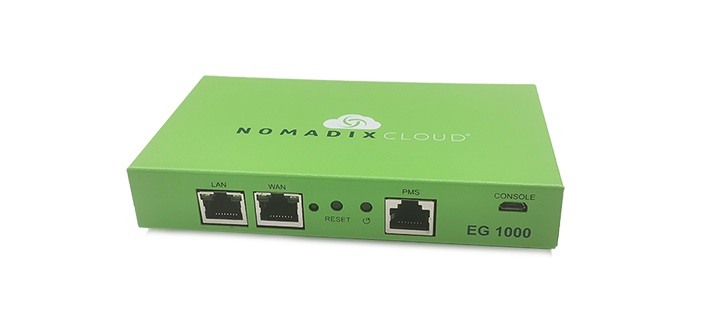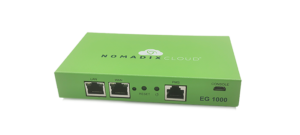 ORLANDO – June 28, 2022 — Nomadix® Inc​., a technology leader in hospitality and multi-tenant industries, has launched an internet hardware and software starter bundle for 500 users and 500 Mbits, at a suggested price of $999 for the hotel. The device can be further expanded to 1,000 devices and 1 Gig if desired. The starter package was created in response to demand from small and mid-sized properties looking for affordable, high-performance onboarding and bandwidth management for guests and tenants.
Nomadix is showcasing the EG 1000 at HITEC Orlando this week, in booth #1617. With similar features and functions as the company's established internet gateways, the new bundle makes the entry-level device an attractive solution for smaller hotels, apartment buildings, and retirement communities, in a compact format and at a low price point.
"Smaller properties shouldn't have to settle for inferior Wi-Fi services," said Tammy Estes, chief product officer, Nomadix. "Hoteliers, landlords, and managers need strong and fast on-boarding and bandwidth management to compete effectively and support their businesses. Guests and tenants expect a service capable of handling streaming, remote working, gaming, and multiple devices. This special bundle delivers extra capacity and bandwidth as we collectively work towards economic recovery."
Independent of this special bundle, the EG 1000 supports 100 devices with 100 Mbits of bandwidth and can be upgraded to 1 Gig. It includes the leading gateway and bandwidth management features that have established Nomadix internet gateways as the preferred solution for many global brands and properties.
 ###
About Nomadix
With more than 25 years of experience, Nomadix enables over 5 million daily internet connections in over 150 countries. A global reputation for unparalleled reliability and ease of management, its patented gateways are the industry standard in hospitality, used by tens of thousands of properties and supporting millions of rooms worldwide. The company provides hotel and property owners, brands, property management groups and managed service providers (MSPs) with a suite of solutions that will enhance the guest and tenant experience, today and into the future. From in-room entertainment with TV casting, to secure Wi-Fi with an expanded Nomadix Networks portfolio, Nomadix Alerts, Angie in-room voice assistants, to a cloud telephony service – travelers can feel at home wherever they go. For more information, visit nomadix.com.
Kate Cleevely, Nomadix
press@nomadix.com