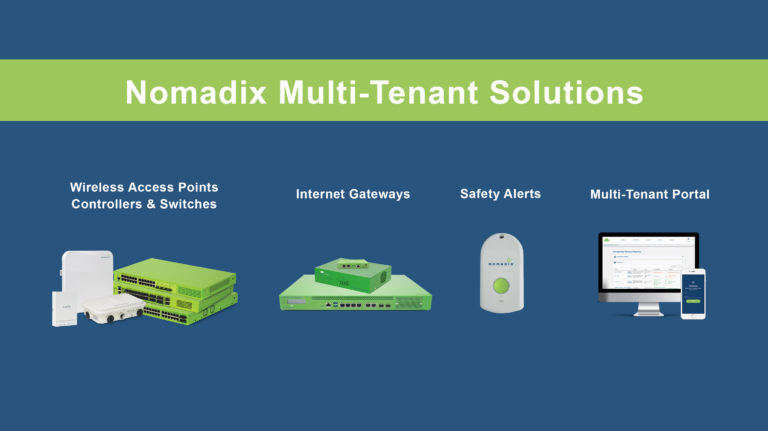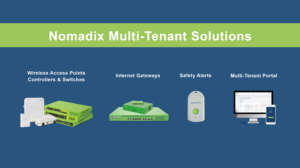 LAS VEGAS – October 3, 2022 — ​​Nomadix® Inc​., a technology leader in hospitality and multi-tenant industries, today announced it will showcase its portfolio of multi-tenant products at WISPAPALOOZA 2022. The company joins distribution partner Winncom Technologies at the conference in Las Vegas, October 3-4 in booth #527.
The solutions collectively enable wireless service providers to extend and diversify their business initiatives, product offerings and revenues, and offer ease of management and a reliable infrastructure. Event showcase:
Nomadix® Multi-Tenant Portal: 
An all-in-one white label managed Wi-Fi solution that enables service providers to offer instant and secure property-wide connectivity for tenants, staff and visitors. It allows branded, simple and immediate subscriber onboarding/offboarding – including bandwidth management – for the utmost resident experience. 
Nomadix® Networks: 
This portfolio includes internet gateways with a complementary range of wireless WLAN Access Points, WLAN Controllers and LAN Switches, creating an end-to-end network solution from a single vendor for procurement and support at an unbeatable performance-to-cost ratio.
Nomadix® Alerts:
A wearable 2-in-1 staff safety device that helps safeguard isolated workers from threats and harassment – including fall detection – while providing Wi-Fi analytics as employees roam around the site.
"Resident internet habits have changed, requiring building owners and operators to offer faster and higher bandwidth for streaming, gaming, video calls and smart technology to increase retention and revenue opportunities. The Nomadix range of products helps create better experiences for both residents and onsite staff," said Mike Womack, vice president of partner sales – The Americas at Nomadix. "We are excited to demonstrate how our products are helping shape internet services for the MTU communities at WISPAPALOOZA with our partner Winncom Technologies." 
The combination of the Nomadix Multi-Tenant platform with both Nomadix Networks and Nomadix Alerts creates the ultimate technological environment to address all these challenges at the best total cost of ownership. Properties can offer dedicated, private networks for hundreds to up to thousands of residents or for multiple roommates within the same unit. Property managers can facilitate easy onboarding and management for new residents, simplified changes between units and upgrades for bandwidth subscription changes. The Wi-Fi 6 network infrastructure offers performance, quality and affordability (with available stock), and when adding on Nomadix Alerts, monitors the Wi-Fi performance while helping staff feel safe wherever they are around the property.
"Winncom Technologies' extensive experience and engineering resources make it possible for us to identify, design and implement the most effective and economical turnkey solutions for our MTU customers," said Igor Kurochkin, vice president, global vendor management & marketing at Winncom Technologies. "Experience is important for everyone impacted by the technology we offer, and we are excited to showcase Nomadix's suite of products, which can increase net-operating income, add ancillary revenues and support modern IoT devices to make smarter communities." 
For more information on the Nomadix Multi-Tenant solutions or to book a meeting with the Nomadix team at the WISPAPALOOZA, visit: https://nomadix.com/WISPAPALOOZA/.
About Nomadix
With more than 25 years of experience, Nomadix enables over 5 million daily internet connections in over 150 countries. A global reputation for unparalleled reliability and ease of management, its patented gateways are the industry standard in hospitality, used by tens of thousands of properties and supporting millions of rooms worldwide. The company provides hotel and property owners, brands, property management groups and managed service providers (MSPs) with a suite of solutions that will enhance the guest and tenant experience, today and into the future. From in-room entertainment with TV casting, to secure Wi-Fi with an expanded Nomadix Networks portfolio, Multi-Tenant Portal, Nomadix Alerts, Angie in-room voice assistants, to a cloud telephony service – feel at home wherever you go. For more information, visit nomadix.com.
About Winncom Technologies:
Winncom Technologies, global value-added distributor of wireless and wired broadband equipment, offers the most advanced forms of communication solutions on the market today.  With a far-reaching international scope, Winncom remains at the forefront of the global technology marketplace, demonstrating a reputation for quality products, a full range of network infrastructure and access products, and a customer-centric business model. We offer the most notable product portfolio along with scalable solutions, world-class customer service, and outstanding engineering services and support.
For more information, please visit www.winncom.com
Media Contacts:
Aubrey Coggins
Director of Marketing
Press@Nomadix.com
Barb Worcester
PRpro
barbw@PRPROCONSULTING.COM
440-930-5770